Bicycle Cards are the most popular deck of playing cards in the world.
They are easily accessible, cheap, and perfect for performing magic tricks and also for casual gameplay.
Are Bicycle Cards Plastic? No, Bicycle cards are not plastic. Bicycle cards are made of paper which gives them an advantage for use in magic tricks and performing card sleights.
Why Are Bicycle Cards Not Plastic?
Bicycle cards are traditionally made of paper.
There are some alternatives and exceptions to it, which we will discuss later, but paper gives the manufacturer better options on how to influence how the deck will behave in certain situations, for example when performing card sleights.
While plastic decks are typically very durable and also waterproof, its surface is in most cases flat, which makes them stick together, unlike Bicycle cards where the surface is filled by little dots that hold air between them when cards are close together.
It means that there is always a bit of air between the cards and this makes the cards more "slippery" and therefore suitable for fancy card manipulations, like card fans or card waterfalls.
Plastic cards and heavy and cumbersome so it's not a good choice when it comes to performing magic tricks.
What Cards Are Plastic?
Of course, if you're looking for a deck that is durable, does not wear out quickly, and is also waterproof, you need for different cards that are not made of paper.
Your choice will be, naturally, a plastic deck of playing cards.
Although I've said that plastic cards are heavy and cumbersome, there are still several reasons why people buy them.
First of all, it's their longevity – if you buy a deck of standard paper Bicycle cards and if you use it frequently, you can be sure that it will wear out pretty fast and you will soon or later need to purchase a new deck.
Also, when the cards get dirty, it's not possible to just wash them.
That's the main reason why people choose plastic cards over paper cards.
What options you have and what's the best choice?
Plastic Poker Decks
Any shop with poker supplies must have a good offering of plastic playing cards for poker.
In general, if you stick to a well-known manufacturer of poker playing cards, you should be happy with its quality.
Most decks in my collection are made of paper but I have several decks made by Copag and Modiano that are very good and easy to use.
Plastic Bicycle Deck
There is also a Plastic Bicycle Deck that looks the same as a standard Bicycle deck of playing cards, with few differences:
cards are made of plastic
cards are noticeably heavier
cards stick together a lot (more than other plastic decks I ever tried)
there is an unpleasant plastic smell to it
This is not to say that this is a bad deck of playing cards but there are definitely better options to chose from.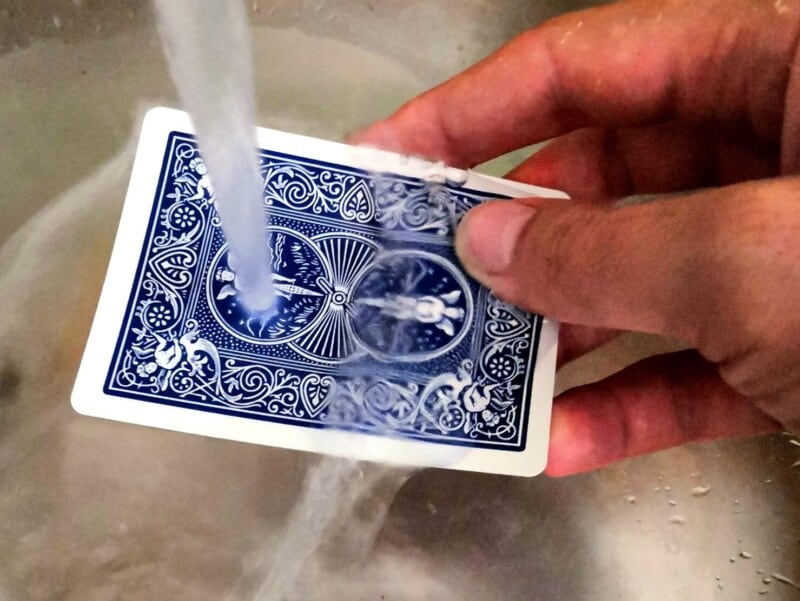 Bicycle Prestige
I have more than 500 decks of playing cards in my collection, but only like 10 of them are plastic cards.
But if I was asked what is the best plastic deck, I'd for sure select this one.
It's not as heavy as the previously mentioned Plastic Bicycle Deck and the cards also do not stick together that much.
It's still far away from paper Bicycle decks so I can not recommend these cards to be used for performing magic, but it's a great deck for playing any card game or good deck to chose for travel, thanks to its durability that is typical for plastic decks.
You can get it for example at Vanishing Inc. Magic shop.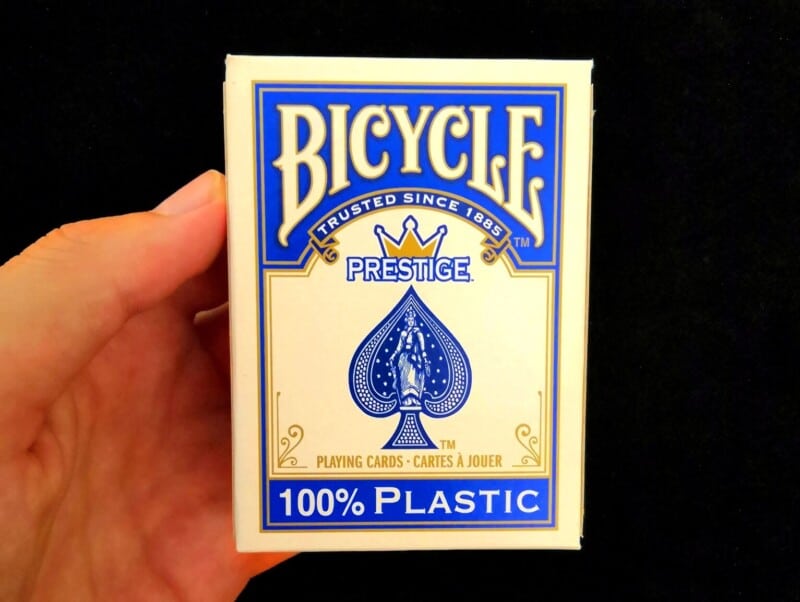 Conclusion
Bicycle cards are not plastic but if you search for a plastic, durable deck of playing cards, there are a lot of options you have.
Stick to well-known manufacturers of poker playing cards or go for the Bicycle Prestige deck.
TIP: If you'd like to learn magic tricks, don't forget to check the following lists: